Traffic Working Party 
The Parish Council commissioned an independent study to address the issue of traffic, putting the interests of the community at the centre of the process.  Funding for this report was raised from the Parish Council, West Sussex County Council's Community Initiative Fund and local businesses.  This document can be viewed here or under the Traffic information tab of this website.
The role of the Traffic Committee will be to agree and adopt the tender document and consultant's report and hand over to the Parish Council and West Sussex County Council for programming and implementation.
In addition to the above project, the committee is also be responsible for Parish issues involving Highways and the village environment including grass verges, tree maintenance, street furniture (e.g. litter bins), fingerpost maintenance.
Ardingly Traffic Calming Project
Ardingly Parish Council was awarded £33,000 for the design of the Ardingly Traffic Scheme in the WSCC Integrated Works Programme 2016/17.  In addition, in the S106 contributions for the Standgrove Field development £87,953 has been allocated to the Ardingly Traffic Scheme.   This is the budget that the Parish Council and WSCC Highways are currently working with to produce a scheme in the village for delivery in 2017/18.
The current position with this scheme is that due to design and cost implications, many of the ideas put forward in the 2013 report cannot be achieved at this time.  However, the Parish Council have been working together with engineers from WSCC Highways to deliver a scheme viable scheme which is within budget for delivery in 2017/18.
Phase 1 of the Traffic Calming Scheme
The first Phase of the scheme was installed in the autumn of 2017 and comprises of :
A 40 mph buffer zone on the Lindfield Rd south of Ardings Close
"ARDINGLY" gatways at the 4 entrances to  the village with 30mph roundels on the road
drop curb crossing points at Hett Close and on the High St just north of Ardings Close
Bollards in one area of the High St to protect pedestrians from cars mounting the pavements
30 mph roundels on College Road
SID machines on College Road and the High Street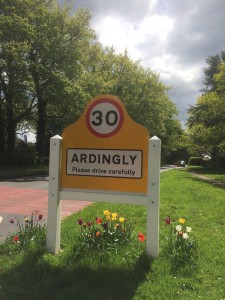 SID (Speed Indicator Devices)  The two SID units are now up and working in the village.  We have a number for volunteers who have kindly come forward to help move them around and change the batteries to ensure they are always up and running.
Bin Stickers 
The Parish Council has distributed 30mph/40mph bin stickers to residents living on through roads.  If you would like any more of these for your bins, please do get in contact with the Parish Clerk.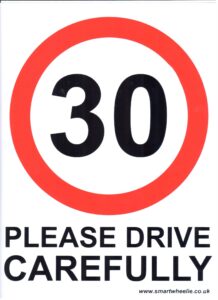 Working Party Members
Mr. P. Burr, Mrs. R. Chalk, Mr J. Horsman, Mr. C. Hotblack
Traffic Committee Minutes 
Traffic Committee Minutes 23.01.18
Past Agendas
10.10.12
30.7.12
Past Minutes
10.10.12
30.7.12